1 in 10 doctors would turn away anti-vaxxers: poll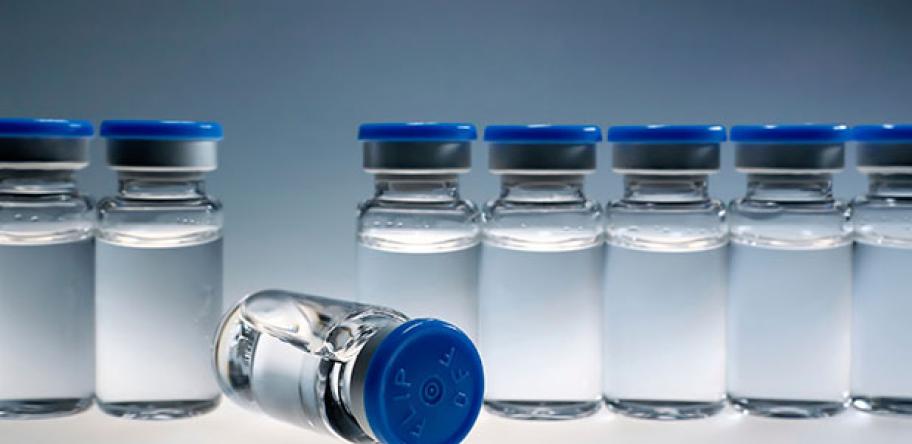 GPs may be more likely to refuse to become an anti-vaccination family's doctor, due to concerns their advice would be ignored, than the profession would like to think, an Australian Doctor survey suggests.
The online snapshot poll, which was answered by more than 400 responders, asked: "Is it ethical to shun anti-vaxxers?"
Almost 10% of respondents said that, "As a GP I cannot take responsibility for anti-vaccine 'ideologues' who ignore my advice and put their children at risk. I would ask them to find another practitioner."
Another 14% agreed that it might be reasonable to reject inappropriate requests, such as delaying or separating immunisations from vaccine-refusing parents.
But the overwhelming majority (77%) insisted they felt ethically bound to treat all children regardless of their parents' opposition to vaccination.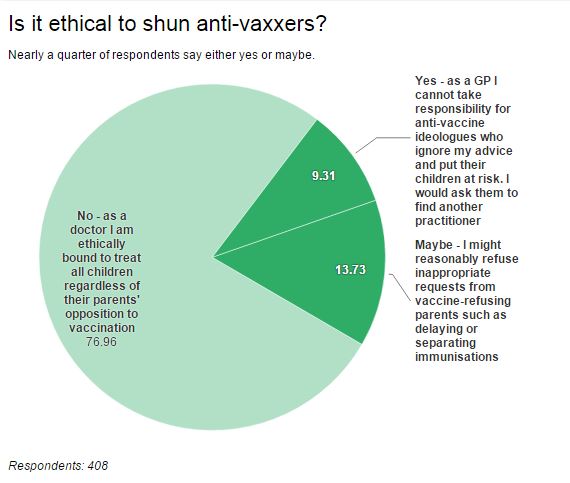 Australian Doctor's poll results tally with those released by the Melbourne Royal Children's Hospital (RCH) last week, which found that 17% of parents of unvaccinated children believed they had been refused treatment by a healthcare provider.
Related News: Doctors reject claims they shun unvaccinated children
The findings of the RCH's child health survey were met with scepticism from doctors, including AMA president Dr Michael Gannon, who questioned the validity of the parental reports.
"I suspect we would hear many, many complaints if it was a fact that these were doctors refusing to treat these kids," he said.
However refusal of care to unvaccinated children is already an established practice in the US, according to the poll's director, RCH paediatrician Dr Anthea Rhodes.
"In fact, the position is supported to a certain extent by the American Academy of Pediatrics," she said.
The hospital's position is that all children have a right to equal access to healthcare and Dr Rhodes implored GPs who may be wavering to keep providing care to unvaccinated families.
"I'm not suggesting that interacting with families where vaccination is challenging is easy but at the end of the day it is really important," she said.
Doctors in Australia could legally refuse to treat patients under certain conditions, said head of advocacy at Avant Georgie Haysom.
"You can refuse to treat a patient for any reason as long as it is not an emergency and or it is not unlawful discrimination. But in some jurisdictions, such as Tasmania and the Northern Territory, the definition of 'unlawful discrimination' includes discrimination on the grounds of an 'irrelevant medical record', which may include vaccination status," she said.
Queensland GP Dr Thomas Lyons, who has seen four young patients die from vaccine-preventable illnesses, said he never turned away unvaccinaed children but agreed that dealing with vaccine refusers could be tough.
He had found success in changing sceptical minds by pointing out alternative scenarios to them.
"I was able to convince a pilot who had read all the information online and decided that vaccine wasn't worth it, but I asked him what he would think if I Googled 'how to fly a 747' and told him I knew how to do it," Dr Lyons said.
The strategy worked, and the pilot brought his kids in a week later to get vaccinated.
"I wasn't judging him; I was just able to explain that I have met over 100,000 people who have been vaccinated without ill effect," Dr Lyons said.
"I have had to temper my own views, which have been colourful in the past, to try to get traction with people."
"Otherwise, you have lost them forever."
More information:
Login to see the rest of this article