Is this Australia's most influential GP?
He's long been seen as the acceptable face of corporate medicine. But can Dr Malcolm Parmenter solve general practice's money problem?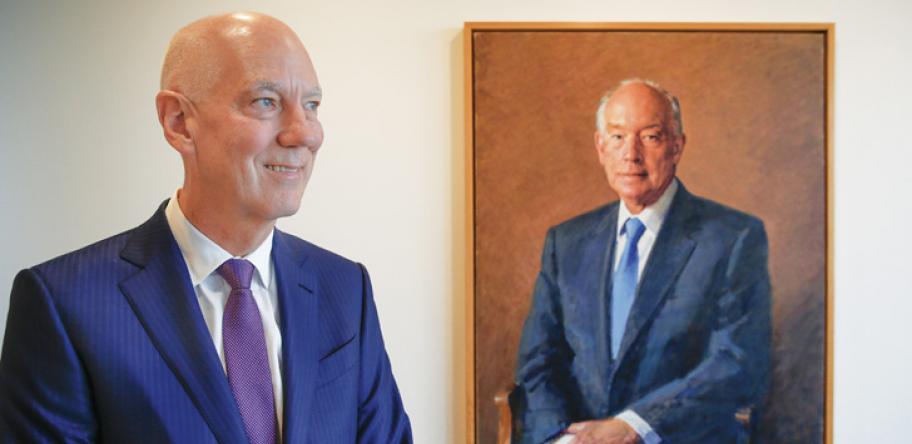 IPN and Primary Health Care, the two giants of corporate general practice, remain arch-rivals, having battled for patients, profits, doctors and overall supremacy for more than two decades.
But this year Primary, in its post-Dr Ed Bateman incarnation, seems to have secured something of a coup by luring the man who not only ran IPN but also appeared in the company's adverts. He has also, in many ways, been sold as the acceptable face of corporate practice.
This year Primary, which contracts some 1000 GPs, signed Dr Malcolm Parmenter as its boss.
He's in Primary's headquarters in Sydney, three weeks into the job having served some gardening leave since his move was announced.
Is he surprised to find himself here, on the other side?
"I've thought about the possibility for some time. I was at Sonic [IPN's owners] for 11 years, but Primary is coming through a transition from a founder-led business to something else.
"I saw what had happened over the last two or three years. I thought it was exciting and I wanted to be a part of it. I just didn't think I'd get the chance."
That opportunity came about thanks to the sudden departure of then chief executive Peter Gregg, who decided to spend more time with his lawyers after being accused of falsifying the books while working as an executive with Leighton Holdings.
Mr Gregg helped reinvent Primary during his relatively short tenure, attempting to shed the brand image formed under Dr Bateman as a place that paid well but where doctors were expected to get through patients to generate Medicare dollars.
Inaccurate perceptions
Dr Parmenter says he has already toured 10 Primary clinics to talk with their GPs.
He says the perception that Primary's success is about patient churn is untrue and is not borne out by the data.
"This will shock you, but if you compare Primary with the bulk-billing centres at IPN, Primary's doctors see exactly the same number of patients per hour as IPN."
The figure he mentions is 4.2. "Primary GPs come from the same cohort of GPs as everyone else…They want to practise good medicine."
There are those who believe that Dr Parmenter, who in the late 1990s turned down Dr Bateman when he walked through the door offering to buy his practice, is largely responsible for changing the debate around corporate medicine.
Those blunt questions about whether corporate medicine is compromising the clinical independence of its doctors in the pursuit of profit have, as the years have gone on, become largely moot. Maybe that's because those same questions are now levelled at the 'Wild West' after-hours care.
But maybe it's because today everyone has to survive in the same fiscal ecosystem — practices, whatever their structure, work to provide high-quality care in return for the $37 bulk-billed rebate. No one can make mega money and everyone is tasked with making ends meet as best they can.
Medicare largesse
But isn't Primary partly to blame for the collective reliance on Medicare largesse? "Every practice down the road has to compete with the Primary clinic. If they don't bulk-bill, patients walk out the door, don't they," Australian Doctor asks.
At this Dr Parmenter laughs, perplexed at the logic.
"We comprise 6% of the market and 85% of doctors out there bulk-bill. It's simply competition, and Primary feels it needs to bulk-bill as well. That is where the market is. The pressure [against] private billing has been everywhere in general practice.
"Primary has had a real go at private billing in the past and, like most practices, patients go elsewhere unless they see real additional value for paying the private fee.
"I've seen people from Mosman [one of the most affluent suburbs in Australia] drive 10km and plonk their Mercedes keys down on some other GP's desk having waited two hours so they can be bulk-billed rather than pay a private fee. It's in the Australian psyche," he adds.
It's the implication of this last statement that explains why Dr Parmenter is worth interviewing.
As the new boss of a company with expectant shareholders, he has to seriously answer the question echoing across the entire specialty amid the big freeze, amid the political apathy ­— where is the money for quality general practice going to come from?
College pushes changes
The RACGP, in its newly adopted role as the political voice of general practice, seems to remain wedded to the idea that the Federal Government will come to the rescue, as eventual penance for its miserly ways.
The college has long predicted the imminent collapse of bulk-billing, despite the awkward fact that its levels have never, in the entire history of Medicare, been higher.
The important corollary of the college's faith-based premonition is that the government will then have no option but to raise rebates.
Its current policy push reflects this worldview. It's suggesting government invests in fee-for-service MBS medicine by creating a new $163 level E item for super long consults along with a 19% increase on all attendance items.
Is that fantasy? There are plenty of commentators outside the college who believe that the government, when asked to go chucking money at Medicare for no political reason, files such requests in the trash.
Dr Parmenter is more polite, but he believes it's a lost cause trying to get the government to supply adequate rebates. "They are not going to increase the rebates," he says.
And the alternative hope, that the patient co-pays, is also misplaced, unless you are careful with what you actually mean. It's not simply the cultural resistance from patients, he believes.
It's basic market forces, such as demand and supply, which takes shape as a big wave of new GPs is starting to arrive, bringing increased price competition with them.
Solutions to money conundrum
So what is the solution to the money conundrum, the solution that Dr Parmenter has to deliver for Primary to ensure the shareholders don't invest their dollars elsewhere?
"The way we deliver general practice services is a bit like the way banking services were delivered in the 1970s. You always saw the teller, but banking moved on to embrace consumer convenience," he says.
Alongside standard general practice — patients making an appointment to see their regular GP — he mentions numerous ideas, which, it's important to stress, are more like thought bubbles than master plans.
One involves fast-tracking for relatively quick and easy patients. He talks about setting up cubicles with stand-up terminals staffed by doctors. "It's a bit like casualty and there is quick throughput."
Other ideas include clinics offering repeat scripts online, providing the patient is a regular, or giving test results or even consults over the phone. Lots of doctors are doing this anyway, he stresses, but for free.
Under bulk-billing, patients have to wait and doctors are rushed, but Dr Parmenter believes there is a cohort of people prepared to pay a premium if they could see the GP of their choice relatively on-time for as long as they wanted to.
This concept is pretty alien to an company that has traded on walk-in, walk out, bulk-billed general practice since it was created.
For Primary's GPs, he believes the company will be able to create a way for a doctor to come from bulk-billing to charging a fee. "[But] I don't think you can take the exact same service and add a fee to it."

Health Care Homes
The other place where he sees opportunities to offer the convenient care that patients want is in the Health Care Homes reforms, which again the RACGP has walked away from. There were sensible reasons why — the blueprint adopted was far from what the college sought and then there was the undeniable fact the government was implementing its self-proclaimed care revolution on the cheap.
Last year the college declared it was so cheap that patients would be at risk.
Dr Parmenter is still in there though. He sat on the Federal Department of Health's implementation advisory panel. IPN, under his leadership, initially signed up 50 practices, which then fell to around 30 after the company discussed the reform details with its GPs.
Primary itself has 12 practices committed to the first wave, and part of the reason is that the lump sum payments for patients ­­— up to $1800 a year — are given to the practice to spend, based on the care plans the practice's GPs draw up. It's promising freedom beyond the MBS and its strictures.
"In terms of people with multiple chronic diseases and complex health needs, we currently have a system where the GP is not able to spend large amounts of time with you," he says.
"Under the Health Care Homes reforms, we can take a team-based approach. It allows for an evolution in the model where significant parts of the care can be provided by the team. That can include patient education, making sure they've got their appointment, they're going to those appointments, that they are getting their blood tests done on time and that they're following them up.
"The current fee-for-service model, which only pays when the GP is sitting physically in front of the patient, can't fund that care. The big question for Health Care Homes is whether it's funded well enough," he adds.
But with Health Care Homes and block funding, isn't there an incentive to compromise care? To make money out of this you have to do it as cheaply as possible ­— employ a student nurse, some allied health workers and push the GP, with their relatively high costs, aside.
What keeps a corporate honest, Australian Doctor asks.
In a Health Care Homes scenario, the GP does much more of the complex decision-making, Dr Parmenter says. It's been tested in many parts of the world, it's rewarding for GPs and it is improving patient care.
"What keeps any practice honest? In the end it's health outcomes and data to determine the quality of care delivered," he says.
"If you want to develop a range of quality services and a pathway to private billing ... the thing that drives that is the quality of the outcomes. Any practice serious about that, including corporate practices, will be tracking data, outcomes and measuring their performance."
Delivering profits
As the interview ends, Dr Parmenter looks comfortable in his new workplace. He's always had good people skills.
His deeper value, however, comes from his reputation as a doctor, as someone signed up to quality general practice, and that is what Primary has gained through his recruitment.
But he will have to deliver profits.
The point of interest is whether he can do that in a way that shows more broadly a possible financial future for quality general practice given that for some time now the outlook has looked so bleak.
Login to see the rest of this article