A century of the Australian Red Cross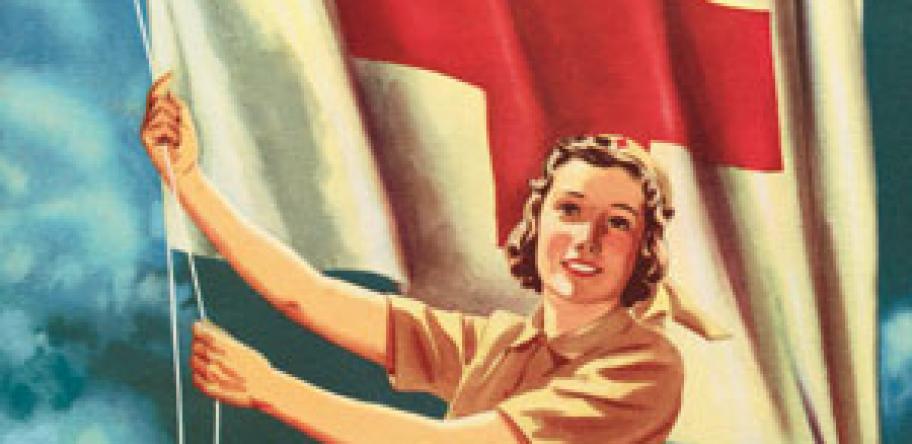 In 100 years, the Red Cross has developed from a wartime support organisation to a charity that responds to many local and overseas emergencies.
It was 13 August 1914, nine days after the outbreak of World War I.
Amid the chaos, a group of men and women met at Government House in Melbourne. This was to be the inaugural meeting of the Australian Branch of the British Red Cross Society.
As the war marched on, so too did the hundreds of thousands of Australians who lined up to join the Red Cross.
Even when the war ended the support continued, and by the time World War II began, Red Cross had become Australia's largest charitable organisation. Out of the nation's then population of seven million, almost half a million were members of Red Cross, most of them women.
Fast forward a century and the organisation stands in its own right, no longer a branch of the British Society, but one of Australia's largest and most recognised charities.
As a measure of its strength, Red Cross held an appeal following the tragic Victorian bushfires in 2009, and quickly raised more than $400 million. In addition, thousands of Australians travelled to Victoria to assist with the clean-up effort.
Much has changed in the Australia and the world in those hundred years, but the need to respond to national and international emergencies such as bushfires and natural disasters remains.
So too does the need for foreign aid and development work, for example, providing clean water and sanitation facilities to East Timor, and improving health services in Tibet.
Today, some one million Red Cross members, volunteers, donors, staff, blood donors, recipients and supporters contribute to the organisation.
According to Red Cross CEO Robert Tickner, the organisation has seen major changes in recent years, including the restructure from state-based operations to one national body.
He tells Australian Doctor that the move provides significant cost savings and increases the organisation's strength and ability to respond to need at a national level.
And there are plenty of challenges — such as the perceived dwindling numbers of volunteers and the increasing competition for the charity dollar.
"Younger people tend not to be joiners in the same way their parents and grandparents used to be," he says.
However, he believes Australia has a bright future when it comes to volunteering, provided that charities are prepared to innovate.
"I see a lot of interest and idealism around young people, but I think it will be a different kind of volunteering," he says.
Australian Red Cross has a high profile in Australia's healthcare sector. It operates the nation's blood service with funding from the Federal Government.
Some 600,000 donors support this service, and Mr Tickner says it is a constant challenge to boost donor ranks to keep blood stocks at necessary levels.
The organisation is now turning its sights on the health and welfare of Australia's Aboriginal and Torres Strait Island people.
This is a new focus for Red Cross, he says, and vital in helping to bridge the gap between Indigenous and non-Indigenous communities.
"That [health disparities] remains a blight on our nation," he says.
"Bridging the gap is still hugely important."
He believes the health issues facing Australia's Indigenous people are one of the greatest problems the nation faces today, and the Red Cross has been actively recruiting Aboriginal and Torres Strait Islander men and women to join the staff ranks.
"We don't want to ride in on our white horse and we don't want to usurp the roles of community-based Aboriginal organisations," he says.
"But public health programs are critically important."
To mark the 100th anniversary of Red Cross in Australia, the organisation has provided Australian Doctor with a series of images that capture the spirit of the many thousands of volunteers who have helped make it what it is today.

One of the many historical Red Cross posters used in membership drives. This one shows a nurse caring for a soldier during wartime.

This poster depicts a family against a backdrop of war and peace.
During the first half of the 20th century, Red Cross volunteers nursed and treated returned servicemen of the Australian armed forces.

Young children were able to follow in their parents' footsteps when Junior Red Cross began in Australia in 1918.
Australia's first Red Cross Blood Transfusion Service was founded in Victoria in 1929. Blood donations proved a critical resource during World War II, much like today, where more than 1.35 million blood donations are received each year.
Many new Australians found a welcoming home at Bonegilla Commonwealth Migration Centre near Albury in the 1950s, where the Red Cross offered practical support, such as clothing, and helped migrants locate missing loved ones.
In the years following World War I, influenza, tuberculosis and polio were rife and Red Cross' efforts were primarily in healthcare. Lady Dugan, a past-president of Victoria Red Cross and the wife of Sir Winston Dugan, Governor of SA (1934-39) and Victoria (1939-49), shown here with a young patient.
The Red Cross in Australia was initially founded with a focus on providing support through World War I. Soon after the war ended, that focus broadened to include community services and childcare, with the wellbeing of children remaining at the forefront of its work. Red Cross members are shown here caring for children in the 1970s.
On the eve of Australian Red Cross' centenary year, 800 volunteers gathered to form a giant human Red Cross and Red Crescent emblem on the steps of the Sydney Opera House.
PHOTOS COURTESTY OF THE AUSTRALIAN RED CROSS.
Login to see the rest of this article