This eye sign predicts melanoma risk
Pigmented lesions of the iris justify more intensive skin checks, dermatologists say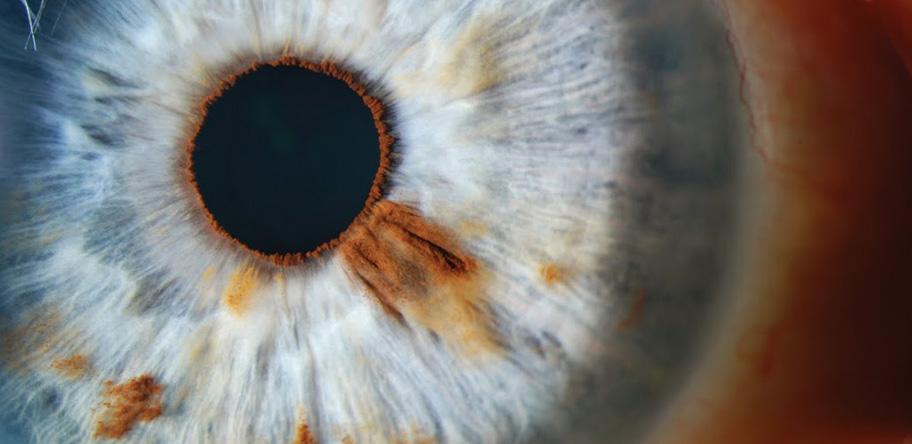 Iris naevus located around 4-o'clock off the pupil. Photo courtesy Mayo Clinic Jacksonville, Florida
Benign pigmented lesions of the iris are a strong predictor of melanoma risk and should prompt more intensive skin checks, dermatologists say.
The presence of iris naevi in younger people almost doubles the risk of melanoma and should be added to established risk factors such as fair skin and red hair, according to researchers from the Dermatology Research Institute at the University of Queensland.
In a case control study involving 1117 patients diagnosed with melanoma, they found a 45% increased risk of melanoma across all age groups associated with the presence of three or more iris pigmented lesions.
The association was particularly strong in people under 40, among whom multiple iris pigmented lesions increased the odds of developing melanoma by about 1.8-fold.
"Iris pigmented lesion count therefore provides additional predictive information for melanoma risk stratification, over and above currently used phenotypic factors such as skin type, hair and eye colour, and naevus count," said study co-author Associate Professor Rick Sturm, a molecular geneticist and deputy director of the Dermatology Research Centre at Queensland University's Diamantina Institute.
"These findings suggest that a detailed dermatological examination for melanoma may be justified in patients under age 40 noted to have iris pigmented lesions," the researchers concluded.
They said their findings had important implications for early detection of melanoma in younger people, in whom melanoma was more likely linked to a propensity to develop naevi rather than sun exposure.
They noted that 10% of all melanomas occurred in people under 40, and survival rates were poor if the disease was not detected in the early stages.
"As iris pigmented lesions are markers for melanoma risk in younger patients, the presence of iris pigmented lesions may identify individuals … who have an inherently high propensity for melanocyte proliferation and transformation into melanoma," they said.
Iris pigmented lesions were common in people of European background, with a frequency of 2-6% for iris naevi and 25-60% for iris freckles, they noted.
Research in the 1980s showed a higher rate of iris pigmented lesions in people with melanoma, but little attention had been paid to the association since then, they added.
The risk of melanoma appeared to be mediated by the IRF4 gene which is a major gene for skin freckling and naevi as well as iris pigmented lesions, the study showed.
---
More information:
Login to see the rest of this article