Fears for the future of after-hours care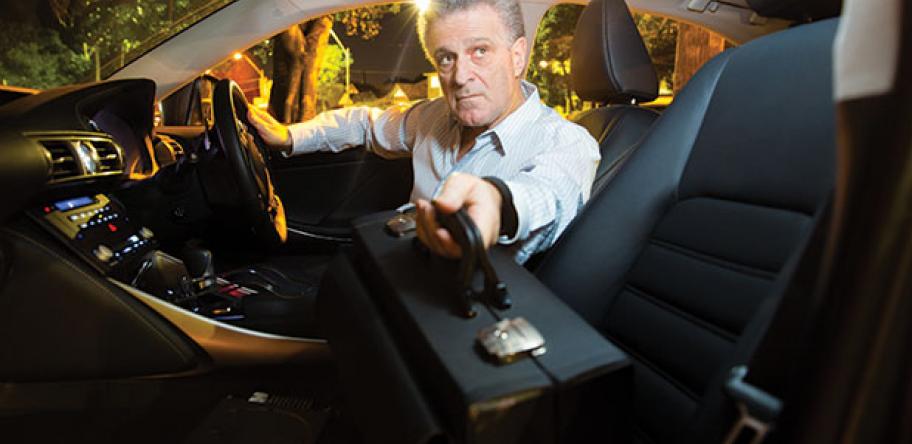 After-hours services are experiencing a boom-time in Australia, but not everyone is happy. Australian Doctor investigates.
It's supposed to be the first days of spring, but a late change has brought a gloomy feel to the early evening.
Standing in the scowling wind and rain as flashes of lightning charge overhead, I'm at a busy intersection in Sydney's eastern suburbs as peak hour traffic makes its way home along Anzac Parade.
Soon enough a dark-coloured sedan arrives in front of me. The driver flashes their lights. My introduction into the world of after-hours care and home visits is about to begin.
For the past two decades, Dr Jerome Stern has been treating patients in their homes across the city's east late into the night. In his 50s, with thick grey hair, he is the medical director of the Sydney Medical Service.
He sees about 10 patients during his nightly rounds, which he does at least three times a week, and all patients are bulk-billed. Staff back at the organisation's Panania base alert Dr Stern to his upcoming jobs through a live radio and computer system.
"Many of our other locums have drivers, especially our female doctors, but I've always liked the freedom and small sense of adventure," Dr Stern says, explaining why he's come alone.
Related:
"I listen to my classical music, I meet interesting people and I enjoy the independence."
Our first stop sees us in Bondi just before 7pm. A widow of a World War II veteran, a Gold Card carrying 90-year-old is worried about a chest cough that has started only a matter of days before a birthday cruise around Queensland with her daughter.
Dr Stern examines her, assures her she won't require antibiotics and should be able to go on the cruise.
Writing his notes on a laptop protected by a rubber casing that wouldn't look out of place on a battlefield, Dr Stern urges the patient to keep her fluids up.
Just as we are about to leave, the patient asks Dr Stern if he saw her 18 months ago when she last called for an after-hours doctor.
"It was you," she remembers. "I did not forget because you have an excellent bedside manner."
"We are ethical, transparent and have been doing this for 50 years," Dr Stern says as we drive to the next job.
"We're a co-operative and all the members of our board are medically trained practitioners. We are not under pressure to find more patients as we do not need to break a profit. If we do, that's all well and good as we can re-invest those funds back into the service.
"As a service we're not here to replace people's regular GPs but to help fill in the gaps. All our patients come to us via their regular GP who are members of our service."
After-hours care, as most doctors will know, is in the midst of a boom time — at least measured by item numbers linked to urgent after-hours care.
Almost 1,415,000 claims were recorded during the last financial year, compared with just over 886,000 two years previously.
The escalating cost to Medicare is probably going to mean the Federal Government, in the form of the current MBS review, will start looking at just how clinically urgent some of these visits are.
The rumblings both within and without the medical profession are being fuelled by the growth of entrepreneurs who seem to be eyeing the cash. Among the new corporates are players like the National Home Doctor Service, owned by a private equity firm called Crescent Capital, which has been busy buying smaller, deputising services.
Related News:
Established in Sydney in 2000, Crescent Capital boldly states that it targets local middle market companies in industries "undergoing structural change".
The firm describes itself on its website as "the most active private equity manager in healthcare transactions in Australia".
The National Home Doctor Service — apparently Australia's largest — has a team of more than 600 doctors.
They will see over one million patients this year alone, according to the company's own figures.
Unlike the old days, some of these new companies are opting to directly advertise their service to patients, running ads on radio, television, as well as online. And the call-outs are free because they are generally bulk-billed.
Such marketing has allowed groups like the National Home Doctor Service to enter the consciousness of patients and their families far and wide.
Healthcare giants like Bupa have also raised the profile of after-hours services. The health insurer has signed a deal with the National Home Doctor Service, whereby its members are enticed to use the service with offers of full courses of free prescriptions, mostly common antibiotics, but also medications for acute asthma, croup, gastroenteritis, flu and shingles.
Supporters say it offers access and convenience, that meets the demands of patients who are frustrated with the disruptive logistics of getting their treatments from pharmacies after their clinical issues have been identified.
But it has also led to claims that these after-hours services are essentially running an all-in-one GP clinic and pharmacy, targeting relatively simple GP care.
'The explosion in home visits driven by the car boot doctor industry is an enormous waste of precious health dollars," Tasmanian GP Dr Donald Rose says.
"When fully mobile patients can get a late-night 'free' home visit to have their paronychia attended to, there is something terribly wrong with the Medicare schedule.
"As a taxpayer, I am annoyed to know doctors are driving around at night claiming high rebates for treating minor illnesses that should be dealt with in a surgery."
After-hours rebates are relatively high — up to $150 for urgent visits. This sum feels even higher when it does not have to support the bricks and mortar of a traditional practice, and its heaving staffing requirements.
Australian Doctor has also been told that some doctors who have worked with these new after-hours providers hand over around 40% of the MBS rebates generated.
But others say doctors — who include those yet to gain specialist registration and substantial numbers of IMGs trying to secure full registration — in some cases are under increasing pressure, where more and more patients need to be booked and seen to, irrespective of the seriousness or otherwise of their health concerns.
There are some important ironies here.
In a bid to reduce presentations and attendances at EDs the government has in recent years been happy to talk up the benefits of after-hours care.
However, a government-ordered review of after-hours primary healthcare completed in October last year recommended the Commonwealth "urgently examine" the "rapid escalation in utilisation of after-hours MBS items" to identify the relevant drivers responsible.
And with the MBS review now tasked with looking at all 5000-plus items on the schedule, something definitely seems to be coming.
Sydney GP Dr Harry Nespolon is a practice owner who has been a keen observer of the growing after-hours scene in his area.
"The health department is obviously concerned that there is something like $200 million suddenly going into an area where there was almost nothing happening.
"The health department is obviously concerned that there is something like $200 million suddenly going into an area where there was almost nothing happening. I would say that the government has got its wish. Don't wish too hard for something or you might just get it. They wanted after-hours services and they got them. They can now work out or decide how to pay for them."
If the whole idea is to keep patients away from EDs, Dr Nespolon says, then even the higher priced item numbers are probably saving the system money and allowing it to see more people more efficiently.
"But the problem is that the costs are being borne differently by governments, with the Commonwealth bearing the costs of all these after-hours visits and the states potentially getting the benefit of fewer people showing up at their EDs," he adds.
Dr Stern heads out to Darling Point, Beaconsfield, then Surry Hills and Kensington.
The sick and ill include the well-heeled with houses by the harbour to public housing tenants fighting off poverty and mould.
At an aged care residence in Edgecliff, Dr Stern prescribes amoxycillin to a 91-year-old with a severe chest infection. A montage of photos on the wall near the patient's bed detail a richly led life, full of family, travel and smiles judging from the faces.
We're about to leave, momentarily locked in by the facility's security systems ("A common occurrence," Dr Stern says).
Both Dr Stern and his colleagues back at the Sydney Medical Service fear what may emerge from the government that is always looking to save costs, and at the same time has the smell of a rort in its nostrils. The fear is simply that the good — improved access to medical care in aged care homes being one — will be damaged by the attempt to deal with the bad in the industry, which usually exists at the very margins.
Reform options include a tightening up of item descriptors to narrow what exactly constitutes an 'urgent' case of after-hours care. Currently, the item descriptors for 597 and 599 simply say: "The patient's condition requires urgent medical treatment." And that is it.
While a redefinition of what construes 'urgent treatment' may provide for a reduction in costs for the government, organisations like the Sydney Medical Service fear that smaller deputising services will be the first to feel the pinch.
"There are concerns that patients are being taken away from their regular GPs and local clinics," the service's CEO Adel Badawy says.
"But services like ours exist only to complement people's existing GP when they cannot access them."
Another option — flagged in the government's after-hours review — is stricter restrictions on the ability of after-hours providers to market and advertise themselves.
"I've heard of complaints from some GPs that their patient has called an after-hours service when the GP themselves were able to see the patient in their own clinic," one insider says.
"That's all because of the way these groups advertise."
The review was written by former RACGP president Professor Claire Jackson. Following its publication in May this year, she told Australian Doctor that patients should be getting access to after-hours care via their usual GP practice.
"We are not under pressure to find more
patients as we do not need to break a profit. If we do, that's all well and good as we can re-invest those funds back into the service"

- Dr Jerome Stern
Photos by Rizwan Nawaz/Anarchy Concepts
"We don't need more fragmentation. These are supposed to be deputising services for the patients' usual care providers. At my clinic, I get a report on my desk in the morning summarising what has happened overnight. I think in some cases, [deputising services] have stepped outside that kind of role."
On one of our last visits at a small NSW housing unit in Eastlakes, Dr Stern treats a young boy with a high fever. Worried by his condition after coming home from work, the boy's mother admits to having initially called a competing after-hours service whose name she can't remember, but she could recall the jingle from their ads and phone number. She says Dr Stern's arrival is a "godsend".
"We don't do any kind of marketing or advertising really, but the scene is changing, with our competitors doing prime-time spots on national television," Dr Stern says as we get in the battered lift to leave for one final job.
The thought seems to set off a light bulb in his head — but one that is making him squint a little in discomfort.
As the lift slowly creaks down the floors, Dr Stern reaches into his doctor's bag and pulls out a fridge magnet with the insignia of the Sydney Medical Service. "Let's go back up and give her this."
The times are changing for the experienced night doctor. It's no longer enough to be a respected medical professional; you also need to market yourself. In this industry anyway.
Serkan Ozturk is an Australian Doctor reporter.
Login to see the rest of this article