The future of general practice: How should we pay for GP care?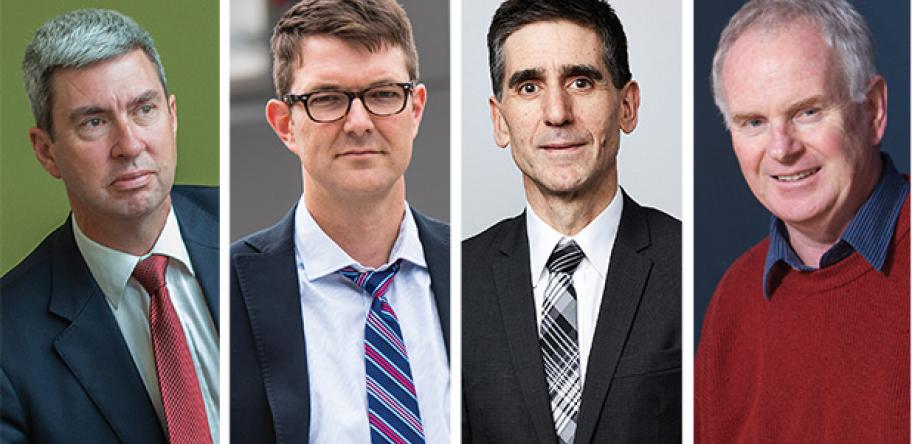 Where is the money for general practice going to come from?
Last month, Australian Doctor revealed that most GPs believed a standard consult should cost at least $65 — far short of what most GPs actually receive for their work.
And while the Federal Government is apparently soon to axe its rebate freeze, it will make no difference to the long-term underfunding of the specialty, which has been left to stagnate for a decade.
Here, we ask four policy obsessives the hard questions about the real-world options.
They are RACGP president Dr Bastian Seidel, former RDAA president Dr Paul Mara, AMA vice-president Dr Tony Bartone, and Terry Barnes, the former health advisor to Tony Abbott whose ideas to increase funding for general practice led to the GP co-payment policy.
Judge for yourself whether you think they have the answers.
Related News:
---
Australian Doctor: It costs around $110 million every time the government increases the Medicare rebate for a GP attendance item by just one dollar. The truth is that the Federal Government is not going to increase rebates to anywhere near where GPs say they should be.
Mr Barnes: Yes. My estimate is that raising MBS rebates for general practice and related services (non-referred attendances for Medicare purposes) by the amount of the proposed 2014 GP co-payment, $7, would cost around $1.1 billion a year or almost $5 billion over four years.
That's a heck of a lot of new money to find, and in pure budgetary terms, it's almost impossible for governments to pay what GP services are worth, especially while they obsess on boosting bulk-billing rates.
AD: So where will the money come from to fund general practice?
Mr Barnes: There must be offsets from elsewhere, ideally at least dollar for dollar ... Clamping down
on cost-shifted MBS rebates for public hospital patient services and private patients in public hospitals is one place I'd be looking.
Dr Seidel: The Victorian Government released data prior to the federal election last year, indicating that the MBS freeze would cost it $220 million per year as more patients would attend EDs.
Consider that re-indexation of GP MBS item numbers only costs $160 million nationally. It is a no-brainer to fund general practice.
Dr Bartone: It's up to the government to determine its spending priorities, although it is critical we don't debate taking funds from one part of the health sector to fund another.
This is divisive and fails to recognise that there are funding pressures across the whole health system.
Sadly, the government [under Tony Abbott] also mismanaged its approach to encouraging patient co-payments, so that any discussion about patients who can afford to contribute to the costs of their care is now political poison.
AD: When rebates are as inadequate as GPs say they are, what impact is that having on the quality of patient care provided?
Dr Seidel: The RACGP is concerned about poor continuity of care, shorter consultations, and therefore more referrals, more prescribing, and more initiation of pathology and diagnostic imaging.
Dr Mara: Practices compensate. Initially, GPs simply charged their non-bulk-billed patients higher fees. The history of this suggests that we have reached the brick wall of how this can occur.
Dr Bartone: We know GPs are giving very good care for patients and getting world-class outcomes. However, we know that the viability of practices is being increasingly threatened.
There is pressure on GPs to work longer and to see more patients, and we continue to see strong growth in certain MBS items.
Practices have been restructuring to drive more efficiency, but it is hard to see how much longer this can continue before these gains are exhausted. At the end of the day, something will have to give.
Mr Barnes: GPs will continue to try and do more with less. They always do.
AD: What sales pitch should be made to government to increase funding? If they increase rebates, what do they get in return from general practice?
Mr Barnes: The AMA and RACGP's message to government should be that the full range of our work matters to the wider health budget. If GPs do their job right, there are real downstream savings in terms of demand and cost.
'Spending a penny on increasing GP rebates can save two downstream' is the essence of their message.
The money spent on the soft-focus RACGP ad campaign would have been far better spent giving some empirical evidence to government to help it both make and defend a rebate-increasing decision.
Smiling GPs on posters plastered on the sides of buses are all very well, but they don't impress treasury and finance bean-counters in government, let alone persuade MPs of the value of general practice.
Dr Seidel: The federal contribution to public hospitals has increased 19% over the past few years, now almost at a level of $20 billion per annum.
That's just the federal contribution. ED presentations cost at least $200 each — and even when patients are not being seen, it still costs the government $70. Clearly this does not make sense.
We need to ensure continuity of care: this is a significant money-saver and it also improves outcomes.
AD: Given most GPs in the Australian Doctor survey say rebates are inadequate and that more patients should pay out-of -pocket costs, why are bulk-billing rates so high?
Mr Barnes: While the political debate about GP fees and the MBS rebate is the result of tunnel vision about bulk-billing — wrongly and stupidly — that's what the public has been conditioned to demand, including those members of the public who have the education and the means to think and behave otherwise.
Those morally smug but irresponsible middle-class moaners on very good incomes and in good health themselves, who claim to be acting in the cause of Medicare and universal access, are effectively undermining its future viability by their own short-sighted selfishness.
GPs and practice operators are forced to respond to the prevailing view, when the mindset should be universal fair access to Medicare, not free access.
Dr Seidel: There are ethical considerations to why GPs bulk-bill.
I don't take my EFTPOS machine with me when I see a patient in a nursing home, and I won't be taking it when I do home visits for my elderly patients and palliative care patients. I just won't.
That means those visits need to be cross-subsidised via other means and that's why we see out-of-pocket costs increasing as above.
Dr Mara: In economic terms, GPs have very little price elasticity.
A small increase in fees in the context of very high bulk-billing rates and workforce competition would lead to a significant loss of patients, and immediate huge loss of income.
This is why many practices think co-payments are a good idea, but want the government to mandate them.
GPs have compensated for the decline in rebates in a number of ways. All these strategies are self-limiting and ultimately self-defeating, economically, professionally and clinically.
Many, but not all, other specialties have much greater price elasticity and this is leading to a growing gap between specialist and GP incomes.
AD: The Health Care Homes reforms are being sold as the alternative to fee-for-service for chronic disease care. Does that provide a mechanism for GPs to be adequately funded for their work?
Dr Seidel: Health Care Homes have nothing to do with improved patient outcomes.
It's a capitation-funding model, which may work very well for corporate practice owners who outsource chronic disease management to practice nurses or non-GP health professionals.
Ultimately, it is going to be a race to the bottom as funding will not be increased either, in the same way as MBS rebates have not been increased.
Mr Barnes: You mean NHS-style GP budget-holding in disguise, don't you?
AD: What is the politically viable solution to the long-term underfunding of the specialty?
Dr Bartone: There is no simple solution. The government needs to lift the freeze, and genuinely engage with general practice and have a mature discussion about its long term future.
The Commonwealth will need to do more heavy lifting on the funding side, and we need to have an intelligent debate about how we make care accessible and affordable for disadvantaged patients, while at the same time recognising that patients with means need to make some sort of contribution to the costs of their care.
Mr Barnes: Simple. Rebase MBS rebates for general practice and related services, and focus bulk-billing on the financially disadvantaged and the chronically ill.
But as I well know from the debate on GP co-payment two years ago, that's politically high risk to say the least.
Dr Mara: There is no simple answer. Governments will not pay doctors any more than what they are prepared to charge themselves or where it can see solid returns on its investment.
You can't bake a cake without the flour. All ingredients must be used.
My schema would include: independent indexation of the schedule by a tribunal in a way that will allow for input from professional bodies under strict terms of reference.
Also, we should free up the bulk-billing requirements so that market-driven co-payments can be charged. You can do this without legislation.
And through block grants or other blended payments, there should be protection for the chronically ill, socially disadvantaged, young and old.
Dr Seidel: General practice is the shining light of a functioning system and should be used as an example for providing sustainable world-class care.
Allow GPs to practise, stop twisting and turning funding models all the time. Commit to shifting funding from the tertiary care sector to primary care.
Commit to the principle of subsidiarity: if it can be done in general practice, it has to be done in general practice — not in a hospital.
Login to see the rest of this article