How new after-hours corporates fuel Medicare claims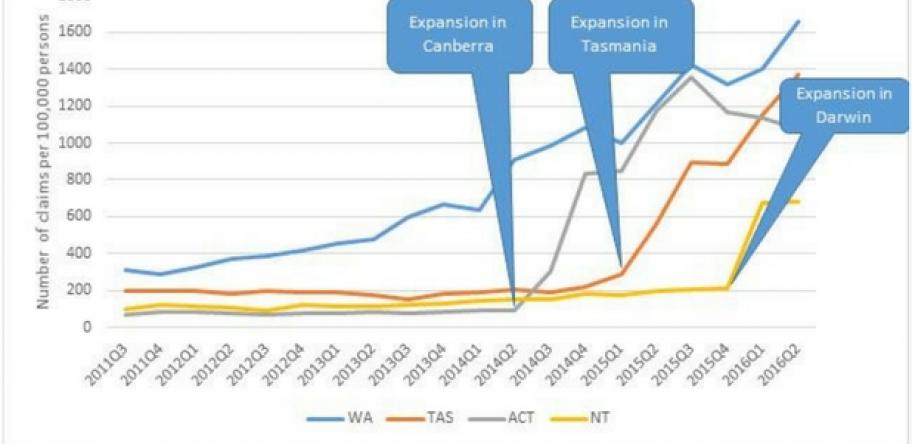 Clever marketing and media campaigns fuel huge surges in urgent after-hours MBS claims when new after-hours corporates open for business, research shows.
Economists have charted the per capita claims for the consults in each Australian state before and after corporates expanded their services.
The University of Tasmania researchers found eye-popping spikes in each state's Medicare payouts for item 597 — worth $129.80 per consult (see graph).
Every jump corresponds with the entrance of an after-hours corporate into the market, says the project's lead researcher Dr Barbara de Graaff (PhD).
Related News:
"We see a lot of marketing when these services expand, and that comes along with a significant growth in claims.
"In particular, we see a lot of supplier-induced demand when they first arrive, where services are advertising that they are available and that can be followed up with things like text messages."
Claims in the ACT, for example, have risen by 1057% since mid-2014 when an after-hours corporate set up shop in the territory.
Similarly, Tasmania has experienced a 521% increase since the fourth quarter of 2014. WA has seen a 348% increase since mid-2012.
Medicare spending on item 597 grew to $197 million in 2015/16, an increase of 136% in five years.
Advertising that uses testimonials or encourages the indiscriminate use of health services is illegal under federal law. But the researchers found examples of corporates employing online commercials, YouTube videos and flyers in pharmacies to reach patients.
"The companies are also very clever at putting out news stories about the benefits of after-hours services and that can have a big effect," Dr de Graaff said.
The health economist said her results, first published in the Australian Family Physician last week, discredit claims from the sector that after-hours consults reduce hospital presentations.
In fact, Australian Institute of Health and Welfare statistics show ED presentations increased 2.7% in the five years to June 2016.
The figures come as the after-hours sector awaits the release of a report from the MBS review, which is expected to recommend restricting access to the lucrative Medicare items.
The AMA and RACGP are urging the government to crack down on use of the "urgent" Medicare items 597-600, which attract fees of up to $153 for attendances in "unsociable" hours.
Last month, the Department of Health revealed more than 10,000 patients had replaced contact with their GP with multiple urgent after-hours visits.
All up, 180,000 patients received three or more urgent after-hours visits to their homes in a 12-month period between 2014 and 2016.
More information:
After-hours GP home visits strain the budget (and don't help emergency departments)
Login to see the rest of this article