Medical Must-See: Explosive antacid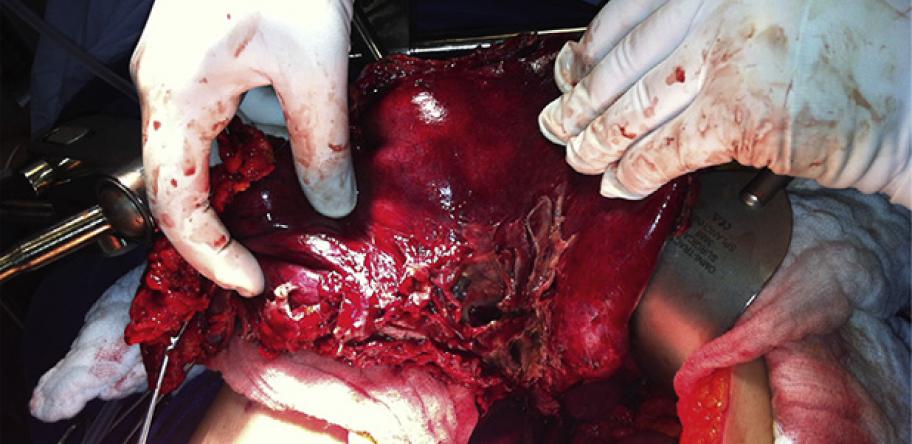 When this woman drank baking soda to relieve her indigestion, she literally felt something "exploding inside of her".
The 54-year-old ingested half a glass of sodium bicarbonate after a big meal and immediately experienced a stabbing pain in her upper abdomen, vomiting and diarrhoea.
She presented to an ED in Colombia with dehydration and tachycardia. On physical examination, doctors noted her abdomen was distended and painful to touch, with unclear rebound tenderness.
Contrast-enhanced CT revealed a disruption in the wall of the lesser curvature, free intraperitoneal air, contrast material collection with air in the lesser sac and stomach content leakage.
Related News:
An immediate laparoscopy found a huge, 5cm perforation along the lesser curvature of the gastric fundus, surrounded by necrotic tissue.
"Spontaneous gastric rupture is a rare event, with few cases reported in association with the consumption of SB [sodium bicarbonate]; other causes include extreme binge eating, barotrauma and superior mesenteric artery syndrome," the authors wrote in the journal Radiology.
"In cases where consumption of SB is associated, the rupture is caused by a sudden increase in pressure from the production of carbon dioxide by the reaction of SB with hydrochloric acid in an already distended stomach by food."

A) Coronal and (B) sagittal contrast-enhanced CT of the abdomen, showing disruption of the wall of the lesser curvature (arrows in A) with leakage of contrast media into peritoneum (arrowheads in A), in communication with a fluid collection in the greater curvature (arrow in B).
Surgeons performed an urgent total gastrectomy with Roux-en-Y, as well as a peritoneal lavage.
Three days later, an upper gastrointestinal series showed the successful passage of contrast media through the oesophagoenteric anastomosis and small bowel. The patient was discharged five days post-surgery.
More information:
Login to see the rest of this article