Medical Must-See: Fetus saves mother from rare rupture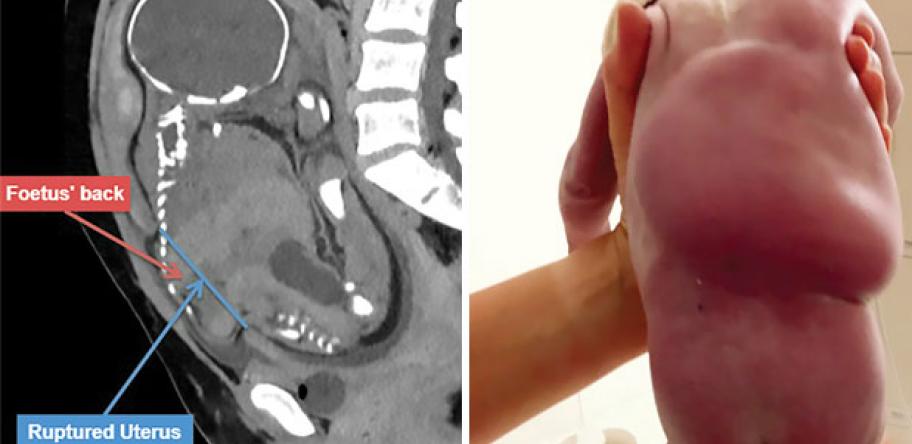 A fetus unknowingly performed a life-saving move in utero when its back became a suction cup, perfectly plugging a potentially fatal uterine tear.
The extraordinary turn of events was discovered when the 31-year-old mother presented to an ED in Lille, France, with sudden pelvic pain at 36 weeks' gestation.
The woman's history was significant for deep pelvic endometriosis, as well as a previous caesarean at 30 weeks', owing to an abnormal fetal heart rate.
However, on this occasion, no unusual fetal rhythm was detected. Doctors noted abdominal rigidity, but she was not in labour and no other symptoms were present.
Related News: Medical Must-See: Fetal feet growing outside uterus
When the pain began to migrate up towards the patient's shoulders, an angioscan was ordered for suspected aortic dissection.
It was only then that radiologists coincidentally discovered the cause: an extremely unusual uterine rupture.
Performing an emergency caesarean section, doctors found that the wall of the uterus had torn 10cm along the former caesarean scar. More surprising still, the baby's back had been blocking the breach.
"It is an extraordinary case of uterine rupture in which the baby saved itself," the case report authors wrote in the European Journal of Obstetrics, Gynecology and Reproductive Biology.
"The complete suction of the back … prevented an haemorrhage, an umbilical cord prolapse and an amniotic fluid leak and thus avoided any maternal or fetal complications."
The newborn, a baby boy, was healthy other than a large lump on his back caused by the suction of the lumbar region through the uterine gap, but this resolved itself after a few hours.
More information:
European Journal of Obstetrics, Gynecology and Reproductive Biology 2017; online.
Login to see the rest of this article