Meet the doctor giving scrubs a fashion makeover
This fitted, granite number will set you back $200.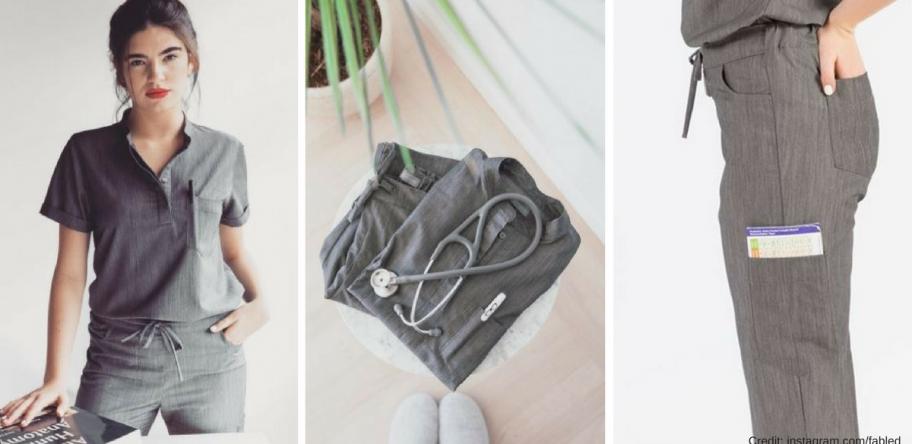 Tired of drab hospital-issue workwear, a paediatrician in the US has launched her own line of stylish scrubs.
Dr Olga Lemberg says she decided to breathe new life into the shapeless standard-issue scrubs after repeatedly being mistaken for a medical assistant or nurse, as they wear all the same scrubs. The result is her own brand of chic hospital-wear, Fabled.
"I have a lot of colleagues that are young women like myself, and it's not uncommon that we're mistaken for other hospital staff," the San Franciscan told Racked.
"It's not an ego thing — it's very much about establishing rapport and trust with patients. Patients have to feel like they trust us and that we have the skills to treat them."
The debut pair of fitted granite-grey scrubs will set you back US$160 ($AU200) although the company is not yet shipping to Australia.
The scrub set, dubbed the Maverick, is decked out in all the bells and whistles any medico could want: pen loops, mitre loops, deep wide pockets for notepads, and zippered pockets.
But where they depart from medical convention is in the slightly slimmer cut of the pant, and the straight close-fit shirt with open collar and hidden Henley buttons.
"I see Fabled as bridging the gap between regular work wear and scrubs for medical professionals," she says.
Prevailing attitudes in the medical profession deter doctors from adopting any individuality or style in the way they dress, she adds.
"There's a little bit of an underlying feeling that when you have outside interests or passions, it detracts from your seriousness, your skill.
"From the beginning of your training, you're hiding the things that make you, you. Scrubs are just another manifestation of that."
Login to see the rest of this article