Meet the doctor who loves boxing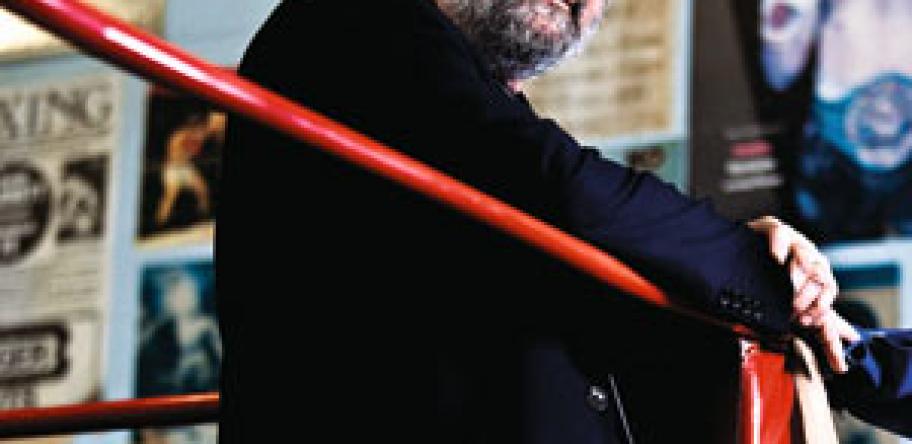 For 30 years, GP Dr Lou Lewis has treated the men and women who box.
As the blows rained down during one of Australia's most anticipated fights in recent times, between Daniel 'The Real Deal' Geale and Anthony 'The Man' Mundine at the Sydney Entertainment Centre in late January this year, there was an intense observer sitting ringside.
A tallish, grey-bearded man with an imposing authority, he would have been a familiar figure to anyone who has attended a major boxing match, weigh-in or fight-related press conference in the past four decades. Or, for that matter, anyone who had watched enough low-key, amateur events.

Photo by Warren Clarke.
Dr Lou Lewis, a GP in Matraville, Sydney, is part of the fabric of Australian boxing. He has been involved in the sport at various levels for more than 40 years and is a keen advocate and ambassador for the 'sweet science'.
Regarded fondly by boxers, trainers, promoters and managers, he has photos on his clinic walls that attest to relationships with the who's who of the pugilistic world.
His love for boxing became serious during his medical training, Dr Lewis says.
Earn CPD Points: How to Treat - Sports concussion
"My brother Alex threw down the gauntlet way back when we were both studying medicine at two opposing universities. As kids, we had an interest in boxing and would occasionally do a bit of sparring. But when he informed me he was joining the university boxing team I, too, decided to take up the challenge and joined the Sydney Uni team."
Since then, Dr Lewis' place in Australian boxing has varied; his time includes a stint as the inaugural president of the Amateur Boxing Authority of NSW. However, over the years his primary duty has been as a physician overseeing contests and ensuring the safety of boxers. It's difficult to put an exact number on the fights he has supervised in the past 30 years, but he estimates it to be in the thousands.
It was a tragic 1982 world title fight in Las Vegas between the WBA lightweight champion Ray 'Boom Boom' Mancini of the US and Korean challenger Duk Koo Kim that forced the boxing community to examine its health and safety policies.
The critical moment came in the bout's 14th round. After being worn down, the Korean received a combination of heavy blows that sent him thudding to the canvas with a sickening knock to the head. The referee stopped the fight and gave Mancini the victory. Shortly after, Kim fell into a coma ringside and died four days later in hospital. Unable to bear the grief, the Korean's mother and the fight referee both took their own lives months later.
From that point onward, championship fights were reduced from 15 three-minute rounds to 12 rounds (it wasn't uncommon for prize fights in the early 1900s to go more than 100 rounds). After this incident, emphasis was also placed on more stringent pre-fight health checks. An extra rope around the ring was also added to stop competitors falling from the arena when they were knocked back to the barrier.
Another high-profile fight, 1975's 'Thrilla in Manilla' featuring Muhammad Ali and Joe Frazier, is regarded by many as the fight of the century. But it is also regarded as one of the most brutal. Fourteen rounds into the 15-round bout, Frazier's trainer had seen enough and threw in the towel, giving the victory to Ali.
Little did Frazier's corner know that Ali came back to his corner signalling them to cut his gloves off, indicating his reluctance to continue. Ali was later quoted as saying: "It was the closest I had come to death."
Ali's struggle with Parkinson's disease is well documented and many have correlated his condition to the amount of abuse he received in the ring.
Dr Lewis has a differing opinion. "A lot of people talk of Ali's condition as a reason to ban boxing, [yet] Joe Frazier took the same punishment and was never affected, likewise with many boxers."
In addition, Dr Lewis believes the standard of medical supervision has increased over the time he has been involved in the sport. In terms of the health and safety of boxers both domestic and internationally, he is of the firm belief that 'if it ain't broke, don't fix it'.
In his view, health authorities and sports administrators worldwide are now focused on maintaining the highest levels of safety in sports such as boxing.
Cuts, bruises and trauma
Many of the injuries Dr Lewis sees have their origins in the lead-up to a contest. A boxer will undergo an extensive two-month training program to be in peak condition, both physically and mentally. It's not uncommon for a middleweight boxer of 73kg to shed 10kg during the preparation period. Trainers, conditioners, sparring partners, nutritionists, psychologists and physiotherapists are all employed to finetune the fighter to hit his or her peak at the right time. This places enormous stress on the boxer's body.
In the professional arena, a fighter will be at their weakest when they go to the weigh-in 24-48 hours before the fight. In most cases, they're dehydrated to make weight. Then it's a matter of hydrating and loading up on carbohydrates and possibly gaining 3-4kg before they step into the ring.
Ideally, Dr Lewis wants to have a complete understanding of the boxer's preparation when they come to weigh-in. "I want to know if they've sustained any injuries in training and sparring and I want to know how much weight they've lost and how hydrated they are, to determine their ability to compete without the threat of a major injury occurring."
In the ring, common injuries include cuts, bruised ribs, hand fractures, bleeding noses and swollen eyes. Less common injuries are broken ribs, jaws and noses, and trauma to the spleen, liver and kidneys.
During competition, the mark of a good 'cut man' is how quickly he can stem the flow of blood if his fighter has a laceration, which usually occur around the nose and eyes. Their tools of trade are swabs, adrenaline hydrochloride and petroleum jelly.
The most feared injury is the knockout and Dr Lewis considers concussion the most serious of all injuries. "It is compulsory that after a boxer has been severely concussed, a lay-off period of one month is enforced. If another knockout occurs, neurological tests are undertaken and a three-month lay-off is ordered and, for a third concussion, a boxer will be off for a year or more, no doubt ending their career."
In the past, comparisons have been made between boxers contesting a tough, 12-round fight and surviving a head-on car crash. Dr Lewis doesn't dismiss the comparison, but adds: "It's also the case that while a lot of punches are thrown, a good defensive fighter may only be hit substantially three or four times. It comes down to good preparation."
Unlike other sports such as football, where tackles or impacts with a ball can hit the sportsperson unawares, when boxers face off they are prepared for the impact, they put their hands up and their shoulder forward to cover their face, they have the ability to cushion the impact as they firmly bite down on the mouthguard to tighten the lower facial muscles.
Dr Lewis stresses that boxing is seeing less head trauma and fewer deaths as awareness grows of the dangers in the sport. And part of that improvement, Dr Lewis says, comes down to the careful work of the match doctor.
"In boxing, a split second is all it takes for a tragic consequence to occur. If a boxer goes down, I have to see what put them down to evaluate the extent of a possible injury. A slip or body punch is less of a worry than a heavy blow to the head where there could be a concussion. You must be 100% diligent at all times."
---
Login to see the rest of this article