Nurse administers DIY treatment for his own MI
He performed an ECG, cannulated himself and administered drugs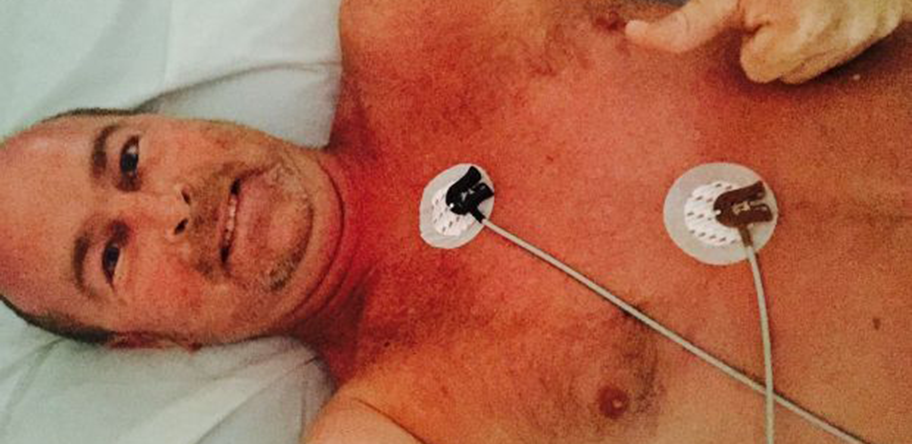 Photo: Supplied
When a nurse in remote WA experienced the signs of a myocardial infarction, there was only one person on duty to provide lifesaving treatment: himself.
Suffering severe chest pain and dizziness, Ryan Franks, 44, used the facilities at the Coral Bay nursing post to perform electrocardiograms, cannulate himself and self-administer thrombolysis drugs until the Royal Flying Doctor Service arrived.
Just before Christmas, Mr Franks had finished his shift at the WA coastal town, 150km from the nearest medical facilities and 1000km from Perth, when he experienced chest pains.
He headed back to the clinic, did the first ECG and emailed the results to a physician through the emergency telehealth service (ETS), who talked him through the next steps in his own treatment, according to a case report in the New England Journal of Medicine.
St John's Ambulance volunteers were also called to be on hand in case he lost consciousness.
The first ECG showed the signs of an infarction and a second 50 minutes later confirmed the infarction was in progress.
The patient "self-administered aspirin, clopidogrel, sublingual nitroglycerin, intravenous heparin and opiates," write the doctors from Perth's Sir Charles Gairdner Hospital.
"Preparations were made for thrombolysis with tenecteplase, with real-time video interaction with the ETS.
"He attached his own defibrillator pads, and prepared adrenaline, atropine and amiodarone. After thrombolysis, there was resolution of his ST-segment elevation and symptoms."
Mr Franks was transferred to Perth by the Royal Flying Doctor Service, where he was treated with a stent and discharged home two days later.
While his actions were the right ones, the authors advise against such DIY life-saving actions if other options are available.
"In the absence of other trained medical personnel or resources, the actions of this patient are likely to have had a substantial beneficial effect on the clinical outcome," the authors write.
"However, a person's self-management of a myocardial infarction cannot be considered medically appropriate if any other option is available."
The patient credits his calm, focused approach to his 20 years' experience as an emergency and remote practitioner.
"I was seeing the situation from both the patient and the nurse situation all the time," he said in a statement put out by the WA Department of Health.
"My 20 years of emergency nursing helped me plan the steps in my treatment."
It was a life-saving 40 minutes between first walking through the door of the clinic and injecting the vital thrombolysis drugs, the statement said.
---
More information:
New England Journal of Medicine case study
Login to see the rest of this article