Overworked GP handed $300k lifeline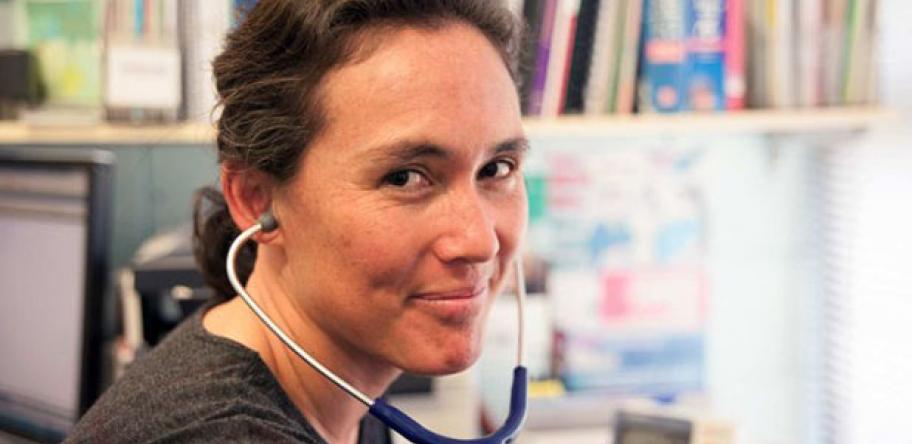 An overworked GP whose practice was kept afloat by a grassroots community campaign has been given a monetary lifeline by the Federal Government.
Last week, Dr Sara Renwick-Lau, from the Mallacoota Medical Centre in north-east Victoria, received $300,000 from the Rural General Practice Grants Program.
The money will be used to help build a new medical centre and purchase up-to-date medical equipment, which Dr Renwick-Lau hopes will finally end her long-running search for another GP.
"Over the years because of viability issues, we hadn't been able to maintain the infrastructure, so having new facilities and a well equipped practice is going to make the practice more attractive to a new doctor," she said.
Dr Renwick-Lau almost walked away from Mallacoota in April 2016, after the retirement of two GPs left her as the only GP to serve a community of 1000 people.
In the summer, the population can increase to up to 8000 people.
The dire situation drove her to appeal directly to the town's residents: help find a second doctor or she would be forced to close the practice.
"I asked the community to take up that responsibility and they've taken it up with gusto," she said.
A dozen Mallacoota residents – including some of her patients – came together to form the Mallacoota Community Health Infrastructure and Resilience Fund to raise money for the doctor search.
Another community organisation, the Mallacoota Inlet Aged Care Inc, contributed $600,000 to help buy the building where Dr Sara Renwick-Lau's practice was located, and waived her rent for the first month.
The residents also run the Mallacoota Doctor Search Facebook page, which urges prospective doctors to come to Mallacoota so that their GP has "more time to go surfing and horse riding".
---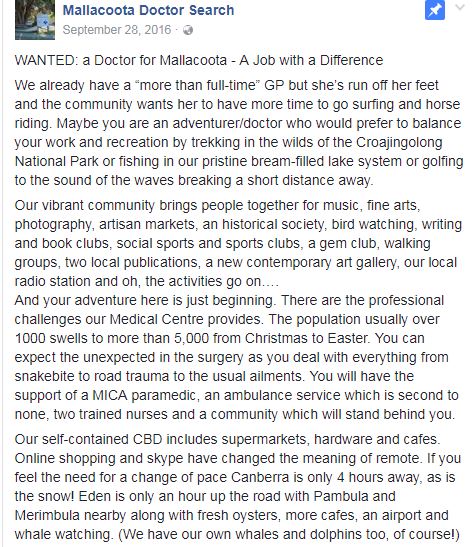 ---
"It's been quite amazing, and a real two-way street for the community," Dr Renwick-Lau said.
Resident Trisha Hiley said they were moved to help their GP because they did not want to be forced to leave town for medical care.
"Sara is also a very good doctor. She's a young woman who is committed to being here. They have bought a house and she has three children. She's in the pony club. She's a member of the community in a deep way.
"It's hard to get that from someone who flies in and out as a locum."
Login to see the rest of this article