'Skinny jeans are the bane of GPs' lives'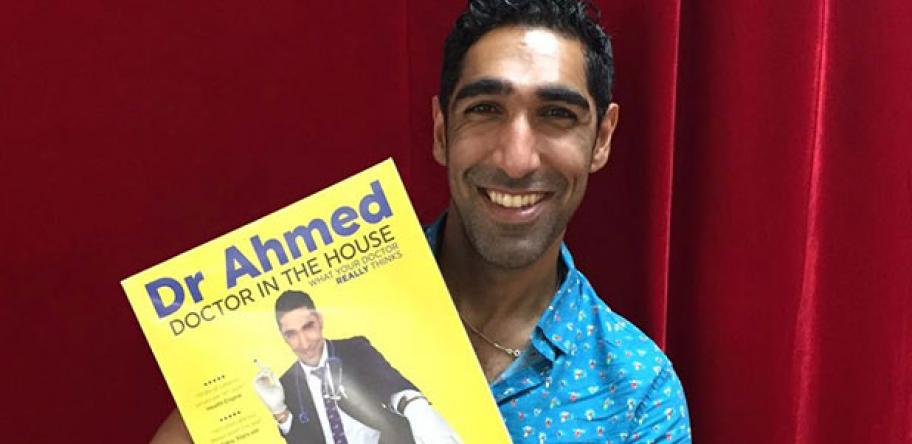 There's a lot of comedy in general practice, says Dr Ahmed Kazmi on the eve of his comedic debut at the Fringe World Festival in Perth.
One of the latest is the current fashion among men and women for skinny jeans. "They're ridiculous," laughs the 31-year-old who hails from the UK.
"You can't roll them up to do an examination. And when I asked a woman recently to take them off, she said she couldn't because she wasn't wearing any underpants as she didn't want a VPL (visible panty line)."
"Skinny jeans have become the bane of GPs' lives!"
Such insights into the humourous things — intentional and not — patients say and do form the basis of Dr Ahmed's stand-up show, Doctor in the House, which kicked off at the weekend.
The show aims to give the public a light-hearted look at the day-to-day life of a GP— with many familiar characters.
"You say to a patient, 'What's brought you to the doctors today?' And they reply, 'My ute, doc'. At first that's funny, but after 100 times, it just isn't that funny anymore.
"Then there are those patients who tell you all about what they said to the chemist, their Mum and their aunty, but by the end of the consultation thay have still not described a single symptom."
His show isn't all talk though. It includes a few well-known songs and some energetic Bollywood-style dancing.
"I think medicine goes well with comedy, music and acting," says the Perth-based GP.
"The job [of being a doctor] involves a lot of social interaction and so that's the same."
Watch a sneak peak of Doctor In the House
Dr Ahmed admits to being worried that other doctors might think him unprofessional for using his medical experiences as the basis for his stand-up show.
He starts his set with a disclaimer that these are not specific patients and the names are made up.
However, he says, he has been overwhelmed with support from the profession, both from colleagues and peers across the country.
"I was apprehensive about how other doctors would take it; patients had told me their personal stories and it was being used for comedy.
"But they have been so supportive. There'll be a lot of healthcare professionals in the audience," he tells Australian Doctor.
If you're keen to see Dr Ahmed tickets for his shows at the Adelaide Fringe on 24-28 of February are on sale now. But be quick; the Perth shows were a sell-out.
All proceeds are going to the Cancer Council WA, a charity close to Dr Ahmed's heart.
Login to see the rest of this article