Transvaginal mesh: another device scandal?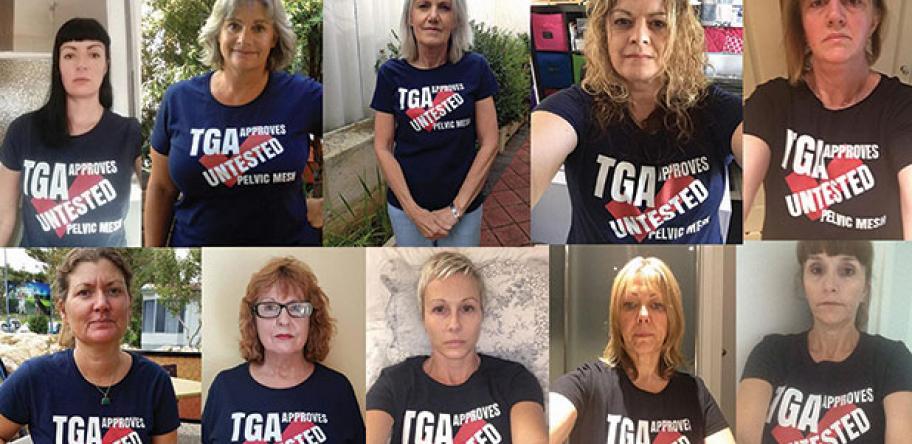 The widespread use of transvaginal mesh has been touted as another medical device scandal. Australian Doctor investigates.
In his previous working life, crossbench Senator Derryn Hinch was a controversial tabloid journalist, who delighted in the nickname 'the Human Headline'.
During his long media career the Human Headline learnt a thing or two about how to catch the attention of the Australian public.
Last year, he stood up in Parliament and attempted to link the thalidomide scandal with a fresh medical controversy.
"I am about to put a four-letter word into the same category as thalidomide — a word that is not crippling babies but has crippled thousands of mothers both here and overseas," he told the Senate. "That four-letter word is mesh, transvaginal mesh."
Simpler and less invasive
The use of transvaginal mesh in urogynaecological surgery has become a vexed issue. When device manufacturers saw that surgeons were using surgical mesh products abdominally to treat stress urinary incontinence and pelvic organ prolapse, they started to develop specific vaginal mesh products. They were approved for use in urinary stress incontinence by the US Food and Drug Administration (FDA) in 1996 and six years later for the treatment of pelvic organ prolapse (POP).
The devices were credited with making the procedures simpler and less invasive. Uptake, particularly in the US, was significant, but over the past decade, reports of complications have increased, with some women suffering agonising chronic pain, nerve damage, bleeding and infection, with mesh erosion cutting through the vaginal wall and sometimes perforating nearby organs.
Related News: Surgical mesh 'like a cheese-grater' - expert
In Australia, the issue has surfaced in the public domain, largely as a result of the lobby group founded by Caz Chisholm, a WA woman who had two mesh implant procedures for stress incontinence in 2014. The Australian Pelvic Mesh Support Group now has over 200 members and is active on social media. It was this group that brought their stories to the attention of Senator Hinch.
In February, this lobbying effort resulted in the establishment of a Senate inquiry to examine the issue. It is likely that a stream of medical experts will be called to Canberra to provide their expert views on this highly charged topic.
Warnings and complications
The FDA first issued an alert about the devices and their potentially serious complications in 2008. It was another three years before the FDA undertook new research in an attempt to discover what was happening.
Trawling through the Manufacturer and User Device Experience database, the FDA compared two, three-year periods — 2005-07 and 2008-10 — and discovered there had been a fivefold increase in medical device reports associated with POP repairs using transvaginal meshes.
This triggered a second FDA alert, which led to at least eight mesh devices being removed from the market.
Class actions were rapidly initiated in jurisdictions around the world. An American litigant named Linda Gross was awarded over $11 million in a case against Johnson and Johnson. After her mesh surgery went wrong, she required 18 subsequent operations. The case is currently being appealed by Johnson and Johnson.
Related News: Outsourced TGA reviews spark safety fears
Last year, the FDA changed its classification of transvaginal mesh to repair POP from 'moderate-risk device' to 'high-risk device'.
Media reports have focused largely on the device itself as failing, but there are important qualifiers. RANZCOG says it is critical to distinguish between the use of transvaginal mesh for POP and its use for stress urinary incontinence.
"They should be viewed very differently," says Dr Martin Ritossa, RANZCOG spokesman and Adelaide gynaecologist.
"Transvaginal mesh for treatment of urinary incontinence has been well researched and has been used in hundreds of thousands of women around the world and has been proven to be safe and effective and probably the best treatment we have for urinary incontinence.
"Transvaginal mesh for prolapse isn't quite as well researched, does have some advantages over traditional repairs but also has increased complications."
The reason for the different outcomes, he says, is partly because more mesh is used in POP.
"It will be under strain, and that strain is going to cause wear and tear. In urinary incontinence, you put a thin tape underneath the urethra ... We don't really understand how it works, but we think it supports the urethra. The tape is like a sling underneath the urethra, supporting it."
Like a trampoline
With POP, a layer of mesh between the skin and the bladder or bowel is attached to ligaments.
"It's a bit like a trampoline. The mesh is a bit like the mat of a trampoline, and the springs hold it up — attachments to ligaments," Dr Ritossa says.
The alarm that has now surfaced about the use of the mesh for POP could and should have been
avoided, according to Dr Christopher Maher (pictured left), one of Australia's senior urogynaecologists, who works at the Royal Brisbane and Women's Hospital.
He refers to the problems that often emerge with new medical devices, particularly in surgery. The way the uptake of the new technology — fuelled by a big company's marketing budget and the recruitment of key opinion leaders — so often moves beyond the evidence base for their efficacy and safety.
The main problem with transvaginal meshes when they came to the market for treating POP, was they were deemed to be safe, based on "substantially equivalent" products used in the treatment of hernias and incontinence. Because these products had already been approved for use by the FDA, they ended up in a fast-track approval process, with no requirement on makers to conduct studies on patents. So the evidential hole was filled by something else.
"From the launch of transvaginal mesh kits in 2002 and until [2011]", wrote Dr Maher in a 2013 paper titled 'The transvaginal mesh decade', "these products were aggressively marketed to clinicians by the manufacturers on the basis of FDA clearance".
He said there was very little guidance given to clinicians about how or when to use these products by their relevant colleges. The primary educators of clinicians were the companies that manufactured them.
"Companies ran educational courses, cadaver demonstrations of relevant anatomy, surgical demonstrations and surgical mentoring programs to facilitate product utilisation by clinicians. Products were also promoted to primary health providers and to the general public.
"This scenario is completely unsatisfactory for all pelvic floor clinicians who have failed to demand a satisfactory level of guidance regarding the safety and efficacy of a product prior to its utilisation," Dr Maher argued.
"As a group, our collective unfounded enthusiasm for transvaginal meshes resulted in loss of trust from women," he wrote of his fellow surgeons. We cannot, in good faith, vouch for the safety or efficacy of any of the currently available transvaginal meshes."
No central registry
In Australia, there are a number of questions to be answered. First, no one quite knows just how many Australian women have been affected as there is no central registry recording the number of mesh procedures undertaken.
The estimation is that as many as 100,000 Australian women have been given a transvaginal mesh implant. The lack of robust data, therefore, makes it difficult to know how many have suffered complications. Consumer health advocate Health Issues Centre says it could be as low as 1% or as high as 30%.
The TGA is more conservative. As of April this year, the agency says it has received 205 adverse event reports about transvaginal meshes, involving 277 patients (one report can refer to more than one patient), which suggests that if 100,000 devices have been implanted since 2000, 0.2% of cases have gone wrong.
For the defence
Amid the media reports, FDA warnings, speeches to Parliament, and news of legal action, anecdotal evidence suggests there has been a dramatic fall in the use of transvaginal meshes.
However, the procedure does have its defenders, and there are fears that the adverse publicity will see the demise of an intervention that still holds out the prospect of genuine therapeutic benefits.
Dr Vivien Wong and Dr Ka Lai Shek, from the Sydney Medical School Nepean, claim "the discussion surrounding the use of transvaginal mesh has been dominated by emotion rather than science".
The problem has been not simply the devices themselves and bullish marketing, but also inadequate surgical techniques and what they say is poor patient selection.
"It is depressing to see the demise of a surgical option precisely at a time when we are finally starting to understand the risks and benefits of that option in individual patients", they wrote this year in the Australian and New Zealand Journal of Obstetrics and Gynaecology.1
Proceed with caution
The call from RANZCOG is not about ditching the procedure. Its message is one of caution.
"For prolapse, our advice would be to try conservative measures and native tissue repair first," says Dr Ritossa. "For anyone, considering a mesh procedure make sure their surgeon is experienced and well trained and recognised for performing that procedure.
"You could ask your surgeon what training they've done and how many procedures they've done. You could get a second opinion about whether that procedure is right for you and whether that person is the right person to be doing the operation."
The Senate inquiry starts taking submissions on 31 May and will be wide ranging in its scope. It will look into the role of financial or other incentives provided to medical practitioners to promote the uptake of transvaginal meshes. It will also examine the role of the TGA, which according to Senator Hinch, has been too slow in voicing its warnings and has failed to protect women.
Court cases also loom. Shine Lawyers is representing 450 Australian women in a class action against the mesh manufacturer Johnson and Johnson. It is expected to go before the Federal Court in the middle of the year.
And as often seen in the past, when the media has its headlines, the lawyers their legal cases and patients have been harmed, it will come as a 'perfect storm' that is unlikely to leave Australian healthcare, and the way it goes about its business, untouched.
Brett Evans and Clare Pain are Australian Doctor Group reporters.
More Information:

Australian and New Zealand Journal of Obstetrics and Gynaecology 2017; 57:105-07.
Login to see the rest of this article