What happens to doctors when their lives fall apart?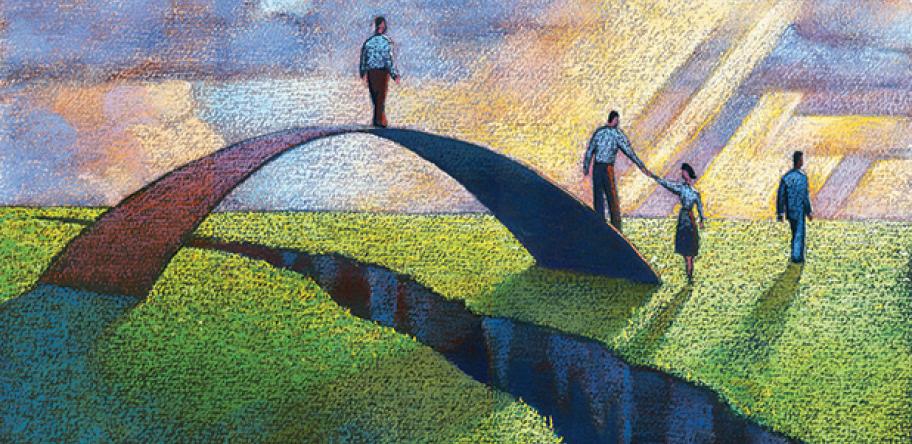 Medical Benevolent Societies help doctors in their darkest hour. So how come their services aren't used more?
Dr Julie Kidd had plenty on her mind the day a tumour blew up inside her brain.
Until that moment, the Sydney GP had lived under the assumption she would always be comfortably off — even rich — just like the rest of her profession. But the haemorrhage snatched away her earning potential as quickly as it took her ability to speak, swallow or walk outside.
Related Case Report: Doctor in distress
"It looked like I would never go back to work, and I was paying Sydney rent and I was in big trouble," she says.
But the sick GP got lucky, and a quiet group of doctors stepped up to offer money and support that helped her to manage until she incredibly returned to work.
Anatomy of an illness
Perhaps luck isn't the right word though — the Medical Benevolent Association of NSW will help any doctor in dire straits. For 120 years, the organisation has worked as the last line of defence when everything else goes wrong in the lives of doctors across NSW and ACT.
There are similar groups working around the country, but whether out of pride, ignorance or fear of facing up to failure, many doctors don't ask for help.
Each association agrees this needs to change.
Income protection

It's painful, but Dr Kidd (pictured left) remembers the exact moment one fresh February morning in 2009 that she began to realise something was seriously amiss with her health.
Things had been tight, but manageable, in the Kidd household. The GFC was wreaking havoc on her finances, while the single mother had a teenage boy to feed and bills to pay. To make ends meet, she began economising on extra spending, like income protection insurance.
The saving seemed sensible and necessary until the fateful moment she paused in the middle of Sydney's Martin Place to stare at her feet.
Looking down, the then 53-year-old saw her feet had spread out with a wide gait. Part of her knew even then that there was something wrong with her cerebellum, but she did her best to ignore the feeling. Instead, Dr Kidd worked through spells of vertigo and fatigue, napping during her lunch breaks until, she says, her body instructed her to face facts.
"It just came out of the blue. I had this moment of panic as I lay down a few nights later, and I knew I was dying," she says. "It was so unreal because I'd just had a day at work, been to Woolies, watched telly and suddenly heard a loud voice in my head telling me 'I'm finished'."
The inner voice spoke just in time. Scans the next day revealed Dr Kidd had developed a malignant ependymoma on the floor of her fourth ventricle, and it had begun to haemorrhage.
"The radiologist beckoned me over and took me to see the film, and all I could see was a mass in my head," she says.
"I went straight to the hospital and I wouldn't work again until 2011."
Related: 10 commandments for preventing GP burnout
Life became a blur of waiting rooms and medical procedures. Dr Kidd was fed via a gastrostomy tube for the next six months, and spent weeks in intensive care, followed by hospital, rehab and radiotherapy.
With her tongue stuck firmly on the right side of her mouth she was unable to speak, so she took time every day to pull it out and exercise it with a spatula.
'A bit tough'
It was then — when she hit rock bottom — that the benevolent association stepped in.
"I've always donated to the charity and while I thought they were incredibly worthwhile, I never thought I would be the one getting help," she says.
"It was a bit tough, admitting I didn't have income insurance or anyone else to support me because my husband was gone. I think a lot of GPs would feel self-conscious about not having it all together."
Through those two difficult years, the benevolent association paid Dr Kidd's health insurance and her rent, which saved her from being forced to move into cheaper housing.
They also allowed her to focus on the future, as she fought her way back to health.
"I didn't actually need emotional support, because I was very steady within myself, so we talked about practical ways I could get myself back to work," she says.
With the hospital's support, they came up with a rehab plan of speech pathology, physio, hydrotherapy, balance classes and swallowing therapy.
Related Opinion: Not all doctors can talk about traumatic experiences - could poetry help?
After six months, she learned how to drink water again. The eventual goal of returning to work drew closer.
"But it would have been a disaster without the benevolent association," she says.
"If I had been so broke that I became depressed, I don't know if I could have maintained the strength of mind to get through it all."
A last resort
Doctors' mental health grabs the headlines, but the problems of daily living, like those resulting from Dr Kidd's tumour, are the bread-and-butter issues of the Medical Benevolent Association of NSW, according to association social worker Meredith McVey.
"A tiny fraction of the people who come to us have problems that stem from just being a doctor," she says.
"Doctors do face unique pressures, but they're also human beings who have to deal with hospitalisations and relationship issues, just like the rest of us."
Related: The traumas doctors face mean they may need therapy too
And just like everyone else, many of Ms McVey's clients only end up in the association's care after struggling with their problems — which range from ill health to financial woes to domestic violence — for months on end.
"Julie was really typical in the sense that she had a significant brain tumour, but just kept putting off doing anything about it until she nearly collapsed in the street," she says.
"It's the pressures of life combined with the stress of being a GP where — like so many of us who put off going to the dentist, — if you're a single parent and you have patients banging on your door, you tell yourself you'll get around to it later."
Asking for help is a last resort for each of them.
Where the health programs provide telephone counselling and advice to help doctors find suitable care, benevolent societies function as charities, distributing money and support.
"Programs like the Doctors Health Advisory Service are like the safety net at the top of a cliff and we're like the ambulance at the bottom, so as people fall through, we're there to pick up the pieces," says Ms McVey.
"By the time people get to us, they are on their knees and all their pride is gone, and they are quite desperate and physically or mentally unwell."
Some, like Dr Kidd, find themselves in trouble after cutting down on income protection insurance, but others, who have paid up for years, fall victim of fine print that frequently excludes mental illness, Ms McVey says.
Related Opinion: Trust me, I'm a doctor — and a person too
"Maybe they've been assaulted by a patient at work, and they are supported until they see a psychiatrist for post-traumatic stress. But then they find help is no longer available because the policy has an exclusion for mental illness," she says.
"It's quite distressing. I've seen doctors who have paid $350,000 on income protection insurance over the years who end up with a charity paying their electricity bills."
For those who find approval, insurance payouts can be so miniscule the association is obliged to step in and top them up.
Around the country
It might seem like a uniquely modern problem, but very little has changed about the role of benevolent associations since their earliest roots in the pension funds of medieval guilds.
The UK Royal Medical Benevolent Fund (RMBF), the world's oldest ongoing society, was founded in 1836 by the precursor of the British Medical Association.
From the outset, the RMBF provided support to elderly or frail doctors as their ability to earn a living declined. But in the 19th century, 90% of the fund's contributions went to doctors' widows and orphans.
Related: Drinking a bottle of wine a night to de-stress?
Now, 181 years later, the majority of the UK society's charity goes to the doctors themselves, as they struggle with medical student debt, litigation and stress.
While doctors in NSW, like those in the UK, have access to a large and well-resourced organisation, namely the Medical Benevolent Association, coverage is patchy around the rest of the country.
Victoria, WA and SA are also home to benevolent associations, but they seem hard to find. None were able to respond to Australian Doctor enquiries for this article. Doctors in the NT and Tasmania are on their own.
Stigma of charity
Former AMA Queensland president Dr Bob Brown runs that state's benevolent association. It's probably the second-best resourced in the country, and offers financial help even for minor expenses like exams.
But despite a strong web presence and the efforts of prominent doctors, the 50-year-old association hasn't been approached by a single client this year, Dr Brown says.
"Absolutely there would be doctors out there who could use our help, but we are not terribly busy, and although we try to get our name out, we could certainly be better known," he says.
The Brisbane GP is concerned that while doctors are getting better at seeking out medical help for themselves, the stigma of asking for charity stops many from getting what they need.
"Most people are too proud or too overwhelmed to think of asking for help," he says.
"We're here and people shouldn't feel like they have to hit rock bottom; it's fine to need a little helping hand."
A normal GP
Back in practice, Dr Kidd agrees. "I want every GP to realise that what happened to me can happen to anyone because I was just a normal GP having a normal life, and then shit happened," she says.
"You shouldn't feel self-conscious about not having everything together and needing charity."
After all, while the charity kept her afloat, Dr Kidd's willpower made the difference as she clawed her way back to work.
Now working as a GP hypnotherapist in Canberra, her speech has returned to almost exactly what is was before the ordeal.
Even now, Dr Kidd's health continues to improve in subtle ways.
The experience, she says, has opened her eyes to just what the human brain can achieve with the right help.
Dr Kidd still donates to the charity.
Related: Would you like to be happier?
---
Geir O'Rourke is an Australian Doctor Group reporter.
Login to see the rest of this article